Clerk and Group D Recruitment by West Bengal School Service Commission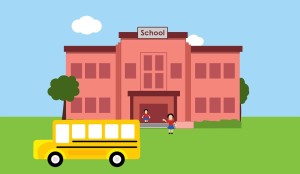 Advertisement Notice
The West Bengal Central School Service Commission
ACHARYA SADAN:
11 & 11/1, Block-EE, Salt Lake; Kolkata-700091
PUBLIC NOTICE
Advertisement No.608/6855/CSSC/ESTT/2016     Dated:29.07.2016
It is notified for information of all concerned that the 3rd RLST for Non-Teaching Staff (CLERK & GR.D), 2016 will be held for preparing panel for recruitment of NonTeaching Staff (CLERK&GR.D) in Recognized Non-Govt. aided/Sponsored Jr. High/High/Higher Secondary Schools in West Bengal against the vacancies available and reported as per existing Rule/Act of Govt. of West Bengal in this regard.
The detailed of information will be available on Commission's website at www.westbengalssc.com on 08.08.2016 from 05.00 pm. and online application forms will be received from 10.08.2016 from 05.00 pm. All concerned are requested to keep close contact with website of the Commission.
NB. Relevant Rules and Amendments will be available in Commission's Website from 29.07.2016 from 05.00 pm.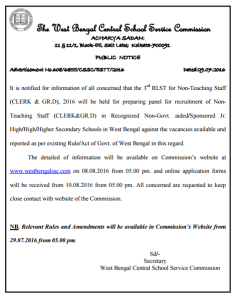 DOWNLOAD RELATED  NOTICE
Download syllabus of Clerk / Group C recruitment  Click to Download
Download syllabus of  Group D recruitment  Click to Download
Download Detailed Advertisements Click to Download
Download Detailed District wise Vacancy List  Click to Download
Source  Website: www.westbengalssc.com