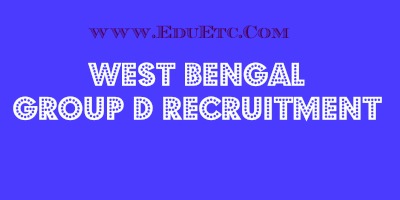 পশ্চিমবঙ্গ চতুর্থশ্রেণীর কর্মী নিয়োগ পর্ষদ।
West Bengal Group D Employee Recruitment Board
"পুজোর পরই রাজ্য সরকারে ষাট হাজার কর্মী নিয়োগ!
বিধানসভা নির্বাচনের আগে ঘোষণা করেছিলেন মুখ্যমন্ত্রী। জিতে আসার এক মাসের মধ্যে গ্রুপ-ডি পদে ৬০ হাজার কর্মী নিয়োগের প্রস্তুতি শুরু করে দিয়েছে সরকার। রিক্রুটমেন্ট বোর্ডের তৈরি প্রশ্নপত্রে পরীক্ষা নেবে ওয়েবেল। সবকিছু ঠিক থাকলে পুজোর পরই হবে নিয়োগের পরীক্ষা।
ইতিমধ্যেই অনলাইন পদ্ধতিতে নিয়োগ প্রক্রিয়া শুরু হয়ে গিয়েছে। আগেই ডাকা হয়েছিল টেন্ডার।  মোট ১৩টি সংস্থা আবেদন করেছিল। বুধবার টেন্ডার খোলা হয়। টিসিএস, মেরিট ট্র্যাক, স্যাট ভ্যাট সহ ১৩টি সংস্থার মধ্যে সবচেয়ে কম রেট দিয়ে কাজটি পেয়েছে ওয়েবেল। ৬০ হাজার পদের জন্য কয়েক লক্ষ আবেদনপত্র জমা পড়বে বলে অনুমান রাজ্যের। "
Source: 24 Ghanta :  http://zeenews.india.com/bengali
CLERK & GROUP D Recruitment by WBSSC DETAILS
JOIN FACEBOOK GROUP FOR WB GROUP D RECRUITMENT www.facebook.com/groups/wbgdrb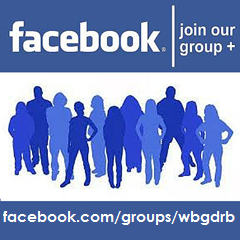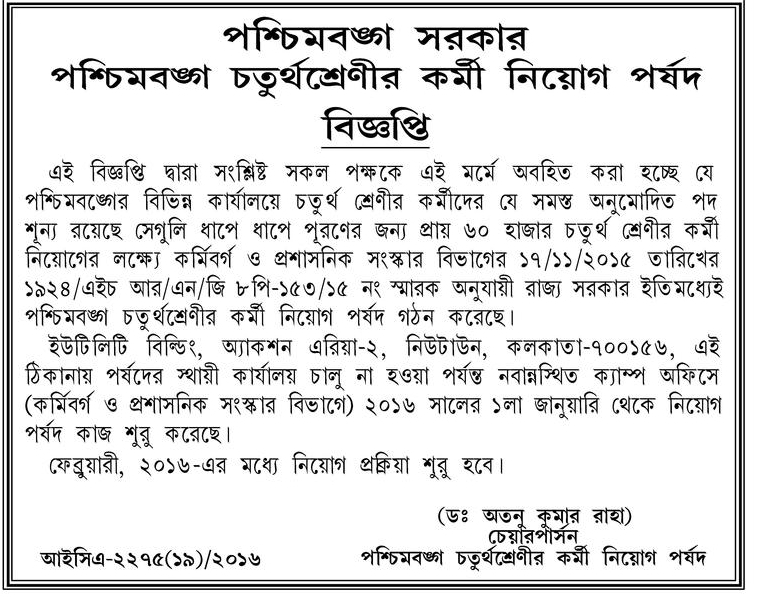 Government of West Bengal will Recruit 60000 Group D under a new Group D Recruitment Board.
Number of Group D vacant post is about sixty thousand.
New West Bengal Group D Service Commission will recruit in these posts.
Advertisement will be published soon.
Qualification, Age, Application fees, Form fillup and other criteria of recruitment will be available after publication of advertisement notification.
From fillup starting Date, Last date of form fillup, exam date/interview date and official website link of West Bengal Group D Recruitment Board will be available soon.