The West Bengal School Service Commission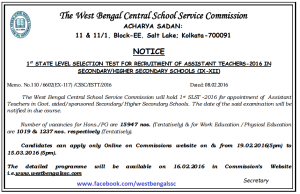 WBSSC State Level Eligibility Test (SLST) Notification 2016
1st STATE LEVEL SELECTION TEST FOR RECRUITMENT OF ASSISTANT TEACHERS-2016 IN SECONDARY/HIGHER SECONDARY SCHOOLS (IX-XII)
Memo. No.110 / 6602(EX-117) /CSSC/ESTT/2016 Dated: 08.02.2016
The West Bengal Central School Service Commission will hold 1st SLST -2016 for appointment of Assistant Teachers in Govt. aided/sponsored Secondary/Higher Secondary Schools. The date of the said examination will be notified in due course.
Number of vacancies for Hons./PG are 15947 nos. (Tentatively) & for Work Education /Physical Education are 1019 & 1237 nos . respectively (Tentatively).
Candidates can apply only Online on Commissions website on & from 19.02.2016(5pm) to 15.03.2016 (5pm).
The detailed programme will be available on 16.02.2016 in Commission's Website i.e.www.westbengalssc.com
WB UPPER Primary TET / WBSSC TET Exam date 16-08 -2015 from 12-30 pm to 2 pm 
INFORMATION RELATED TO TEACHER ELIGIBILITY TEST [TET], 2015 FOR UPPER PRIMARY LEVEL [ Last Updated : 11/06/2015 ]
OFFICIAL WEBSITE OF WBSSC IS www.westbengalssc.com
Recruitment Advertisement of WBSSC SLST will be published very soon.
Question type will be most probably MCQ.
General Transfer:
General Transfer for Head Master & Librarian will be very soon
Process of general transfer for assistant teachers is going on under The West Bengal School Service Commission.
School List is already given. Next procedure will be started soon.
Head Master Recruitment:
Final result of Head Master recruitment will be published soon.
Librarian Recruitment:
Final Result of Librarian Recruitment will be published soon
WBSSC Syllabus:
Syllabus of SSC TET, WBSSC Hons/P.G subjects:
AGRICULTURE, AGRONOMY,ANTHROPOLOGY, ARABIC, BENGALI, BIOLOGICAL SCIENCE, CHEMISTRY, COMMERCE, COMPUTER APPLICATION, COMPUTER SCIENCE, ECO-GEOGRAPHY, ECONOMICS, EDUCATION, ENGLISH, FINE ARTS AND CRAFT, FRENCH, GEOGRAPHY, GEOLOGY, GURUMUKHI, HINDI, HISTORY, HOME MANAGEMENT & HOME NURSING, HOME SCIENCE, MATHEMATICS (www.sscmath.com ),
MUSIC, NUTRITION, ORIYA, PERSIAN, PHILOSOPHY, PHYSICS,POLITICAL SCIENCE, PSYCHOLOGY, SANSKRIT, SANTHALI, SOCIOLOGY,STATISTICS, TELUGU, URDU,
VETERINARY AND ANIMAL SCIENCE
Syllabus Link: http://westbengalssc.org/index.php?title=Syllabus
Official Website: www.westbengalssc.com
Related Website: www.westbengalssc.org